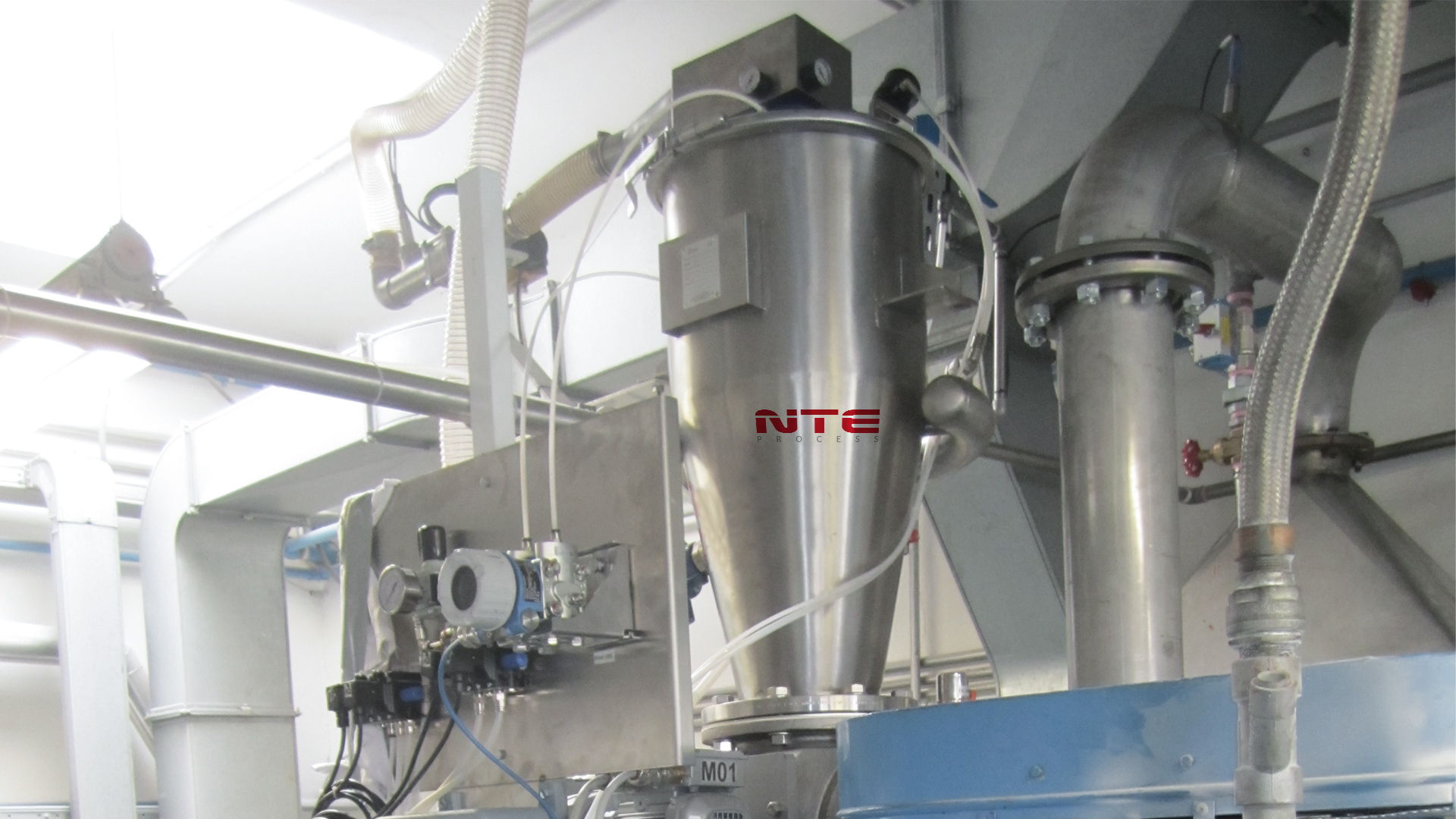 Nol-Vac M394 was designed by NTE Process to meet vacuum conveying requirements at moderate flow rates and over short distances using dense phase pneumatic suction conveying technology. It is a versatile pneumatic vacuum conveyor suitable for conveying powders and granules such as coffee beans and roasted coffee, ground coffee, icing sugar, pea flour, dehydrated carrots, maltodextrin, PVC powder, activated carbon, calcium carbonate, sugared almonds, pharmaceutical tablets, pralines, milk powder, soya flour and many other products.
NTE Process recommends this solution for flow rates from a few kg/h up to 3500 L/h and distances of no more than 50 m to prevent segregation effects and product degradation.
The machine consists of only four parts: vacuum pump, filter system, discharge valve and body. Everything is available in a clamped version without the need for tools, making it particularly suitable for processes where rapid product changeover is required.
In addition to this, its body has an angle greater than 70°, which facilitates the discharge of sucked products, and the design is particularly compact and suitable for limited installation spaces.
Nol-Vac M394 is available in different versions and models:
Basic Version: suitable for use in the chemical and food industrial sectors;
Sanitary Version: suitable for use in the pharmaceutical and dairy sectors (DAIRY, GMP);
Light Duty Version: suitable for plastic and related industries;
ATEX Version for Dust and Gas zones;
PLUS Version: equipped with the Air Assist® system, used for longer distances, in the presence of several bends and with products that do not flow smoothly or are difficult to preserve (fragile or mixed).
Four sizes are available, according to the required flow rates:
1000 mod. 394-1000
1500 mod. 394-1500
2500 mod. 394-2500
3500 mod. 394-3500
Accessories:
Multi-Venturi pneumatic pumps;
Filters with specific characteristics for different applications;
Piping, couplings and suction lances customised for the specific application;
Dual control system: electro-pneumatic or via PLC;
Possibility of use with Air Assist® technology for dense phase vacuum conveying.
Nol-Vac M394 is typically used to load blenders, reactors and packaging machines from big bags, bag breaker stations or drums, etc.