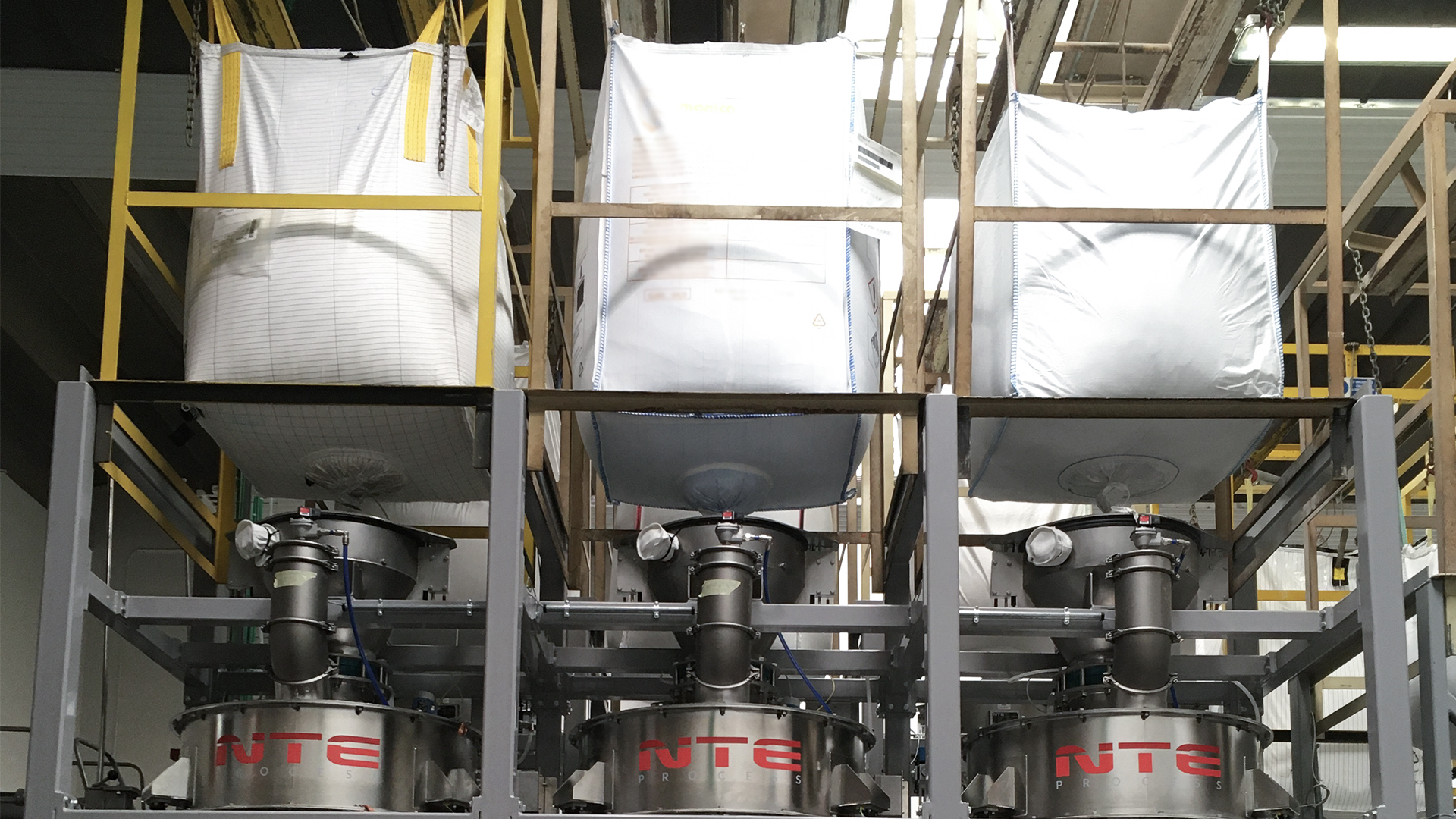 The NTE Process Big Bag Unloading Station M348 is a universal workstation as it is specifically designed for unloading different types of big bags, with and without a tail.
This solution allows the operators to work safely without any dust escaping during the unloading phase, thanks to the built-in filters and suction fan that protect them from contact with the product.
Thanks to counter-current sleeve cleaning, the product sucked from the filter is recovered in the storage and discharge hopper.
NTE Process has designed a big bag unloader for unloading big bags with spouts, the station M358, which is a modular and expandable unloading system, complete with clamp valve that avoids direct contact between the operator and the product before opening the big bag.
It is particularly suitable for applications involving frequent product changeovers because it is easy to clean and it can be equipped with a dedicated filter and/or connected to a centralised suction system.
For manual or even automated unloading of 25/40kg bags, NTE Process offers the bag unloading stations M505, M506-Combo and M506-automatic.
These workstations are complete with built-in cartridge filters with suction or separate suction systems, which allow the operators to work in a clean and safe environment, especially suitable for use in the chemical, pharmaceutical and food industries.
The M506-Combo version also allows for the unloading of big bags by means of a tensioning valve located at the top, while the M506-automatic version is equipped with a belt, an automated bag-breaker and a screen for unloading up to 400 bags/h of product.
They are all available in versions with longer legs for the installation of rollers, mobile containers or pneumatic conveyors. There are also mobile versions on wheels.
NTE Process big bag unloading stations can all be customised, both in AISI and carbon steel, with the possibility of having ATEX versions and/or versions for food (GMP & FDA) and for high containment pharmaceutical (OEB) applications.