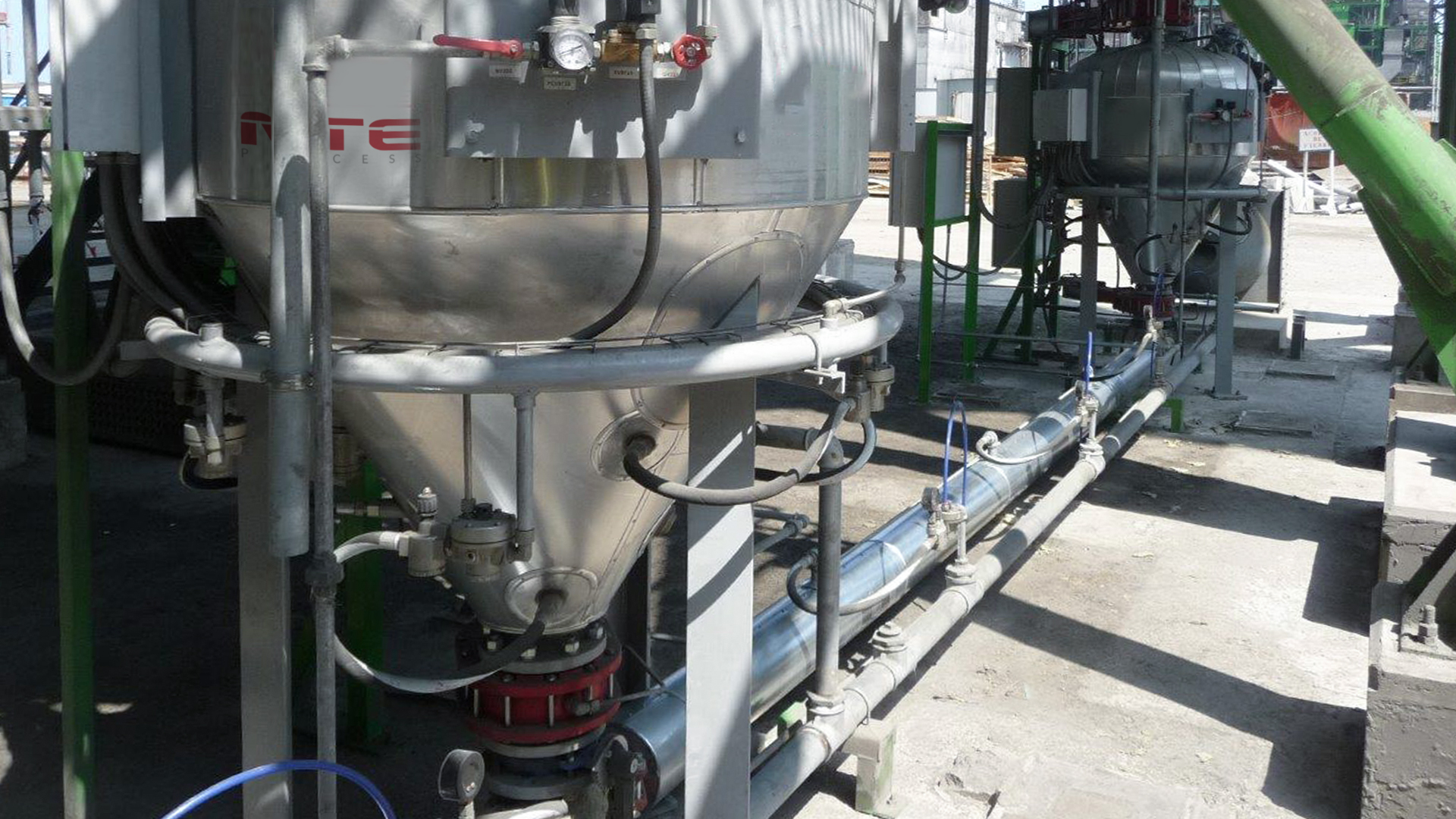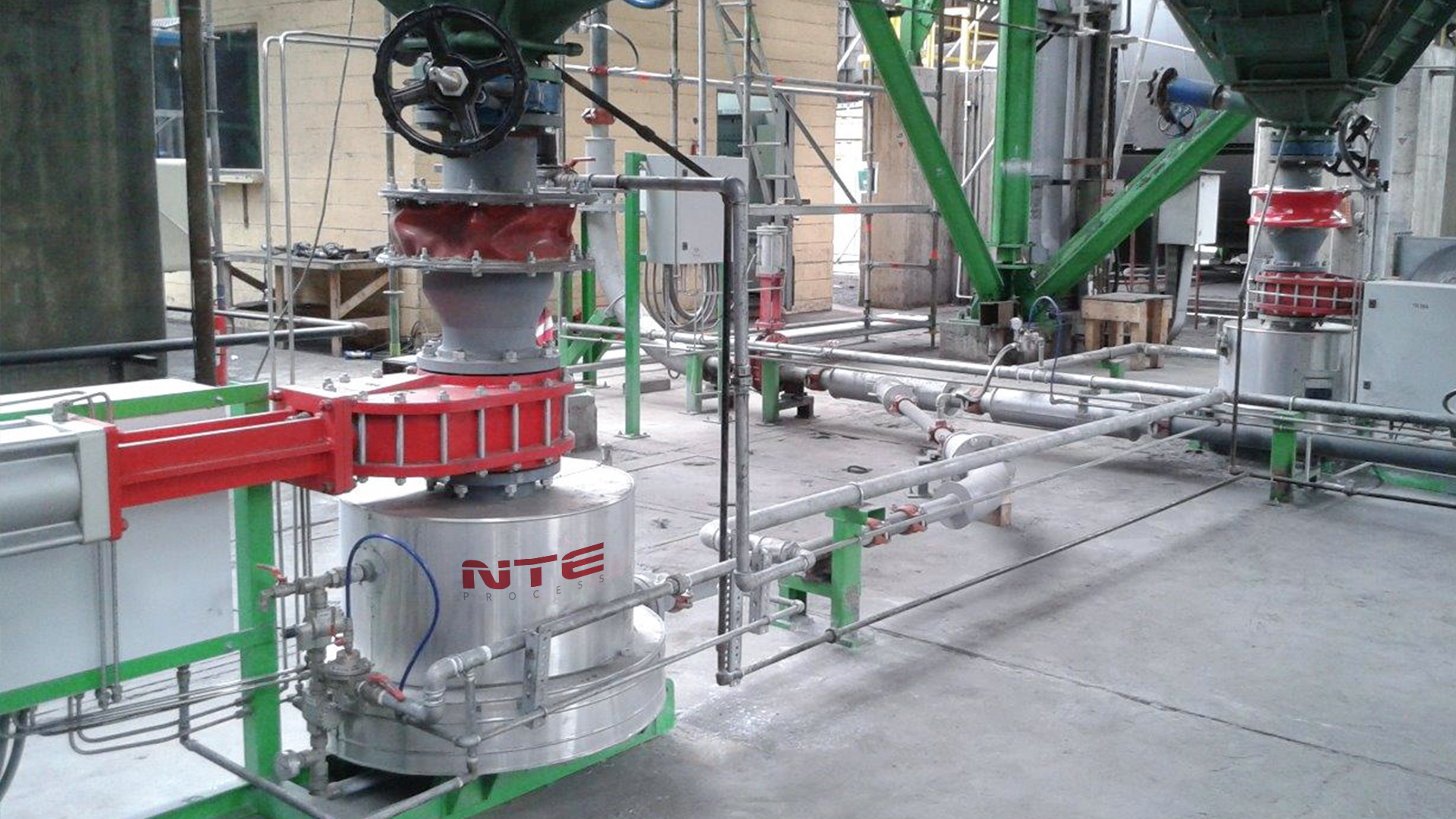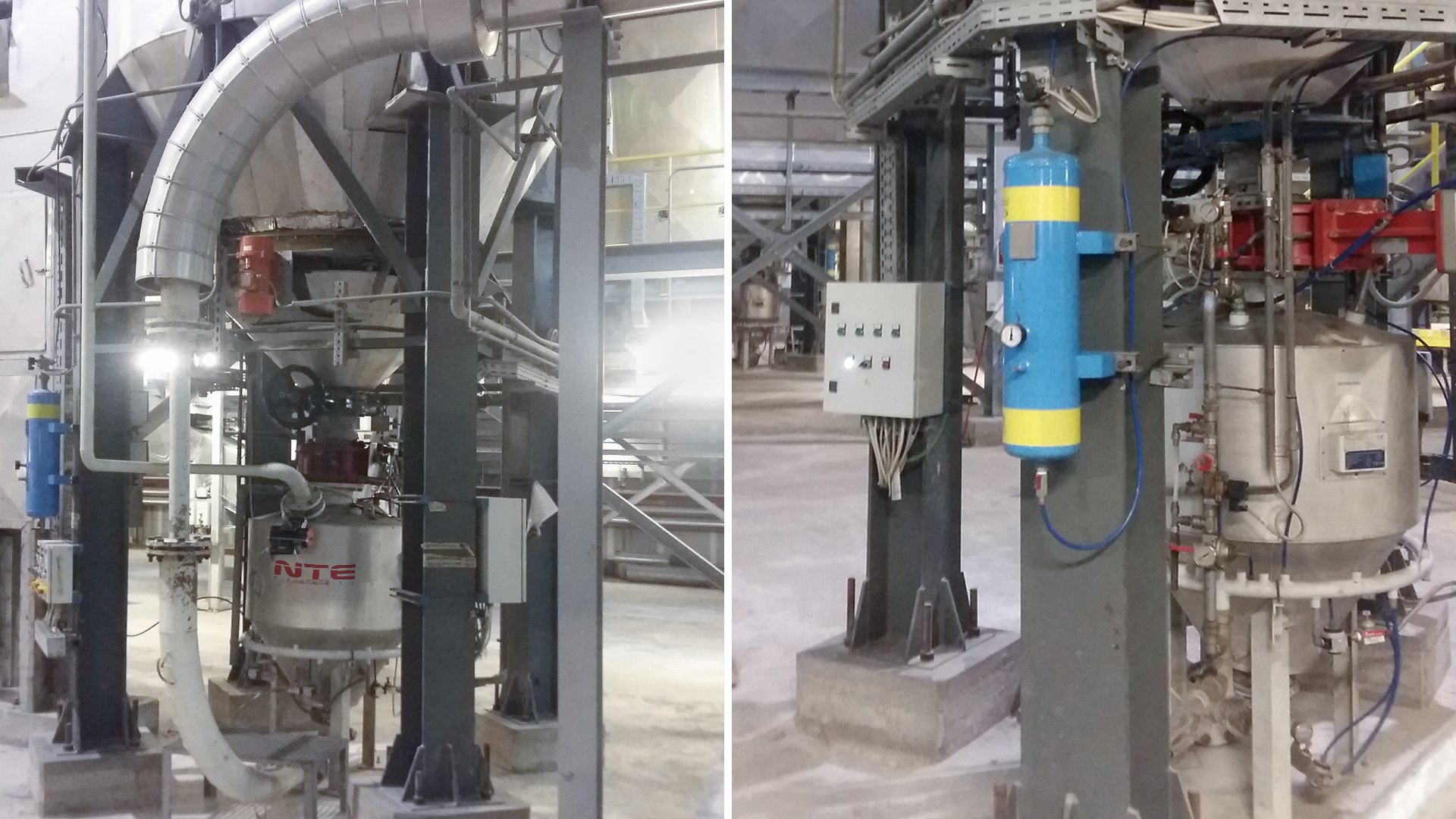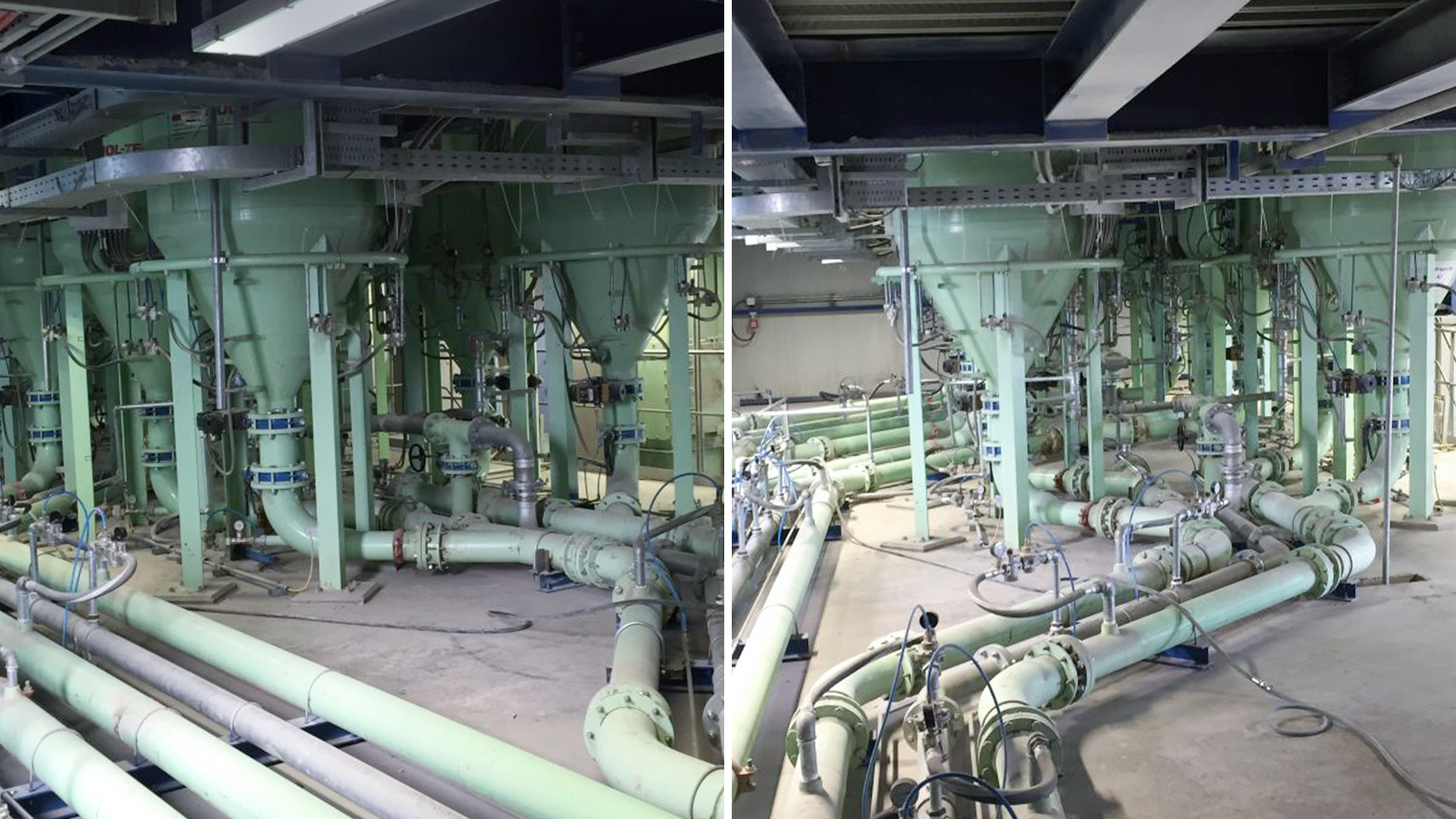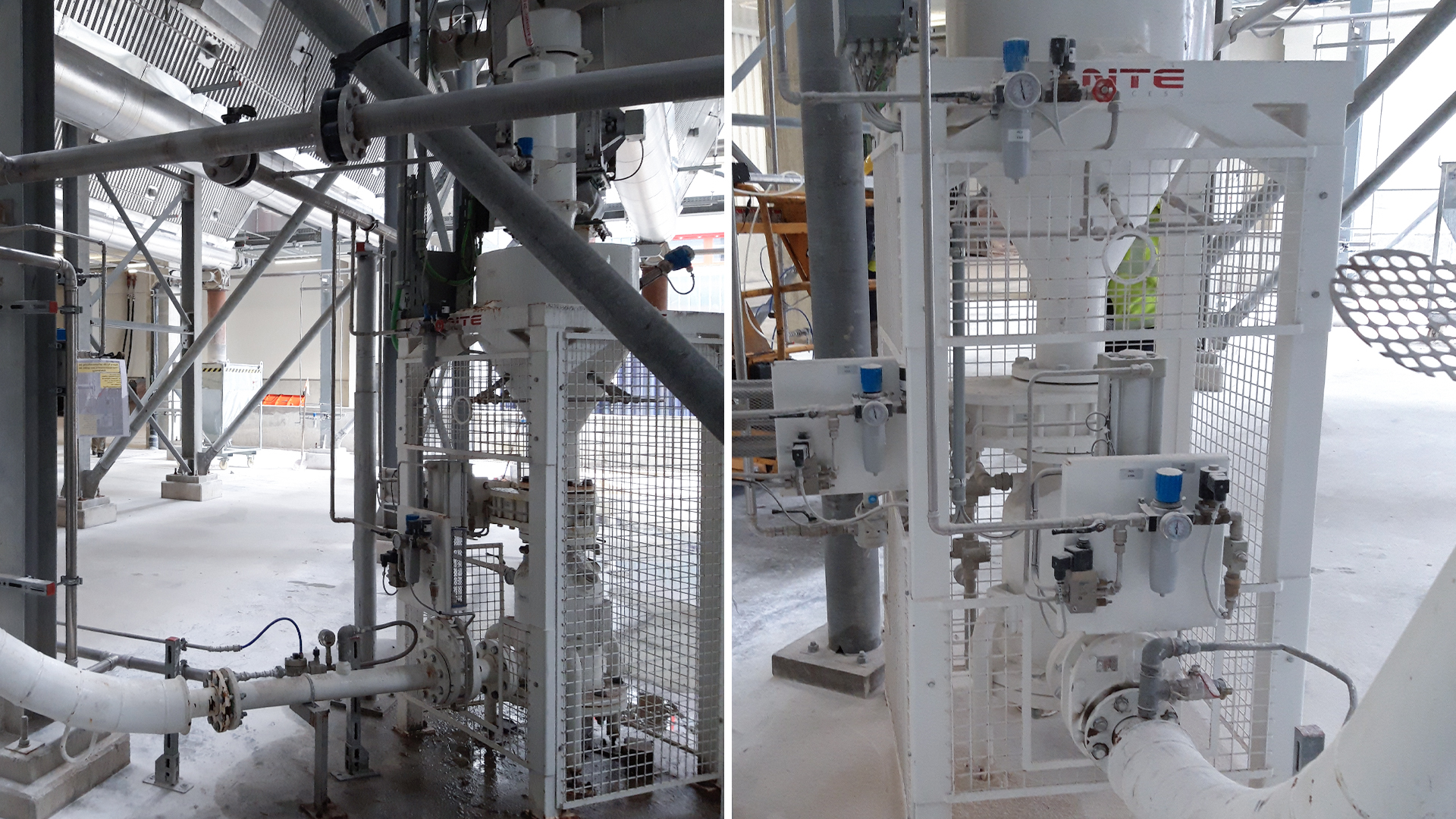 NTE Process solutions for energy conversion and production processes allow for the manufacture of efficient, low-emission plants for coal-, oil- and biomass-fired power plants, as well as for waste-to-energy and fossil fuel-fired industrial plants.
Being a specialist in pneumatic conveying, NTE Process can meet all fly and bottom ash handling needs, providing turnkey solutions that also include the storage and loading of big bags and tank trucks for disposal.
Dilute phase conveying (pressure or suction), a traditional technology in the energy sector, is increasingly being replaced by dense phase, which ensures reduced energy consumption, pipe wear and maintenance. Particularly suitable for this sector is the patented Air Assist® technology, a compressed air or nitrogen injection system that is strategically placed along the pipeline, which not only increases the efficiency of the plant and reduces product degradation and air consumption, but also allows for the plant to be restarted even when the line is full of product.
With the "Eco Dense-Tronic®" patent, you will have a pneumatic conveying system that uses Artificial Intelligence. In fact, thanks to our Artificial Intelligence Air Assist® M533, a 40% increase in efficiency and a reduction in energy consumption of up to 70%* is achieved.
For each plant equipped with Eco Dense-Tronic®, a CO2 saving equivalent to almost 3,000 new trees planted* is possible in one year.
(*Results achieved with specific plant configurations.)
The systems use a special double ceramic disc loading valve M508 that allows for conveying at high temperatures (up to 350°C).
For conveying at very high temperatures, NTE Process offers ceramic-coated Venturi Ejectors capable of conveying ash and waste products from furnaces up to 800°C.
Environmental awareness has led the company to create dry desulphurisation technology (DSI): a consolidated system consisting of dry-injecting sorbents into flue gas ducts for the abatement of pollutants such as acid gases (SOx, HF and HCL), volatile organic compounds (VOCs), metals, mercury and dioxins.
These systems normally consist of storage silos, often equipped with a double outlet in order to feed two different and independent lines where back-up is required, high-precision volumetric or gravimetric dosing units, rotary valves and high-pressure blowers to feed the conveying lines.
Also, the air flow coming from the blowers is pre-cooled by exchangers placed downstream of the blowers themselves, which are used to cool the air and prevent the calcination effect created inside the pipes.
The conveying pipes are flexible, particularly suitable for the pneumatic conveying of particularly cohesive products and equipped with a compressed air pipe cleaning system to prevent unwanted downtime.
Sorbent dosing is particularly accurate according to the pollutants to be processed. NTE Process combines this technology with PLC system self-control, automatic system and injection lance cleaning, a special fluid-dynamic and resistive splitter for simultaneous injection at several points, and innovative lances that increase pollutant reduction performance by reducing the use of reagents.
In addition to this, modular and compartmentalised dust capture filtration systems are available for many industrial vacuum processes, allowing for the filters themselves to be cleaned both off-line and on-line.
The main applications for the Power&Energy sector are:
Fly ash: dense phase pneumatic conveying systems, even over long distances, from filters, heat exchangers, ESPs to storage silos and tank truck loading.
Boiler bottom ash: dilute phase pneumatic conveying systems and boiler recirculation systems. Also, handling to storage silos by mechanical boiler bottom extraction systems with dense phase technology with Air Assist® if placed after the grinders.
Harmful emission control: dry injection of sorbents (sodium bicarbonate, lime, activated carbon) to control acid and mercury/dioxin emissions in power generation, waste-to-energy and biomass plants (RDF, wood chips, lignite, pellets, PKS, sawdust, etc.).
Boiler fuel injection: system to add biomass through continuous dense phase conveying. It is an innovative, high-pressure rotary valve technology that ensures loss-in-weight feeding (accuracy higher than 1%), while dense phase conveying ensures a constant air/product ratio for all flow rates.
This technology also allows the stoichiometric ratio designed for pulverised coal injection to be maintained when biomass is a percentage of the total fuel.
It is possible to perform tests with or without combustion (pneumatic conveying only) with a boiler partially or entirely fed by biomass.
NTE Process aims to be the single source provider for plants complete with harmful emission capture filtration and helps its customers create solutions that guarantee increased production while fully complying with environmental regulations.