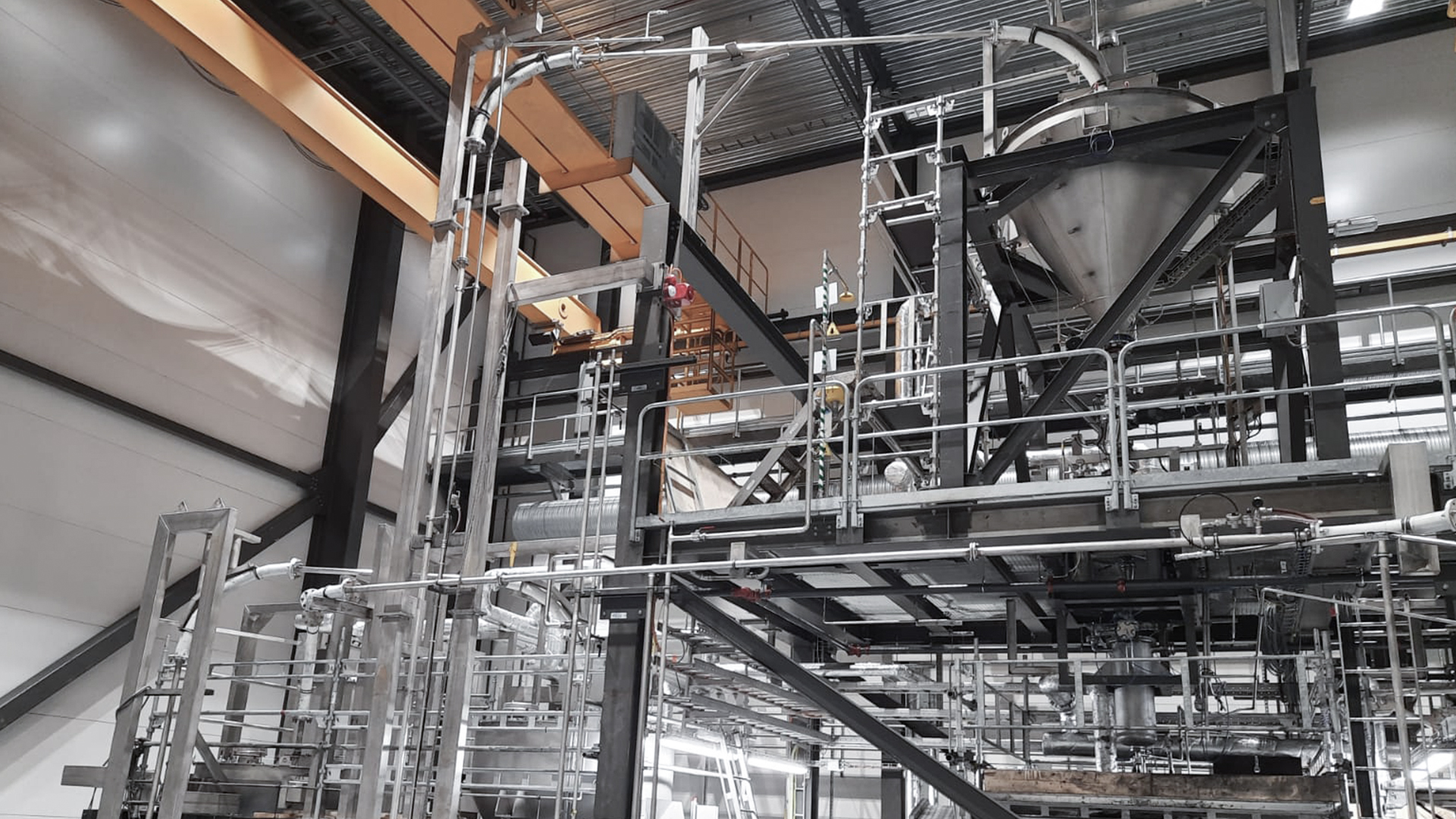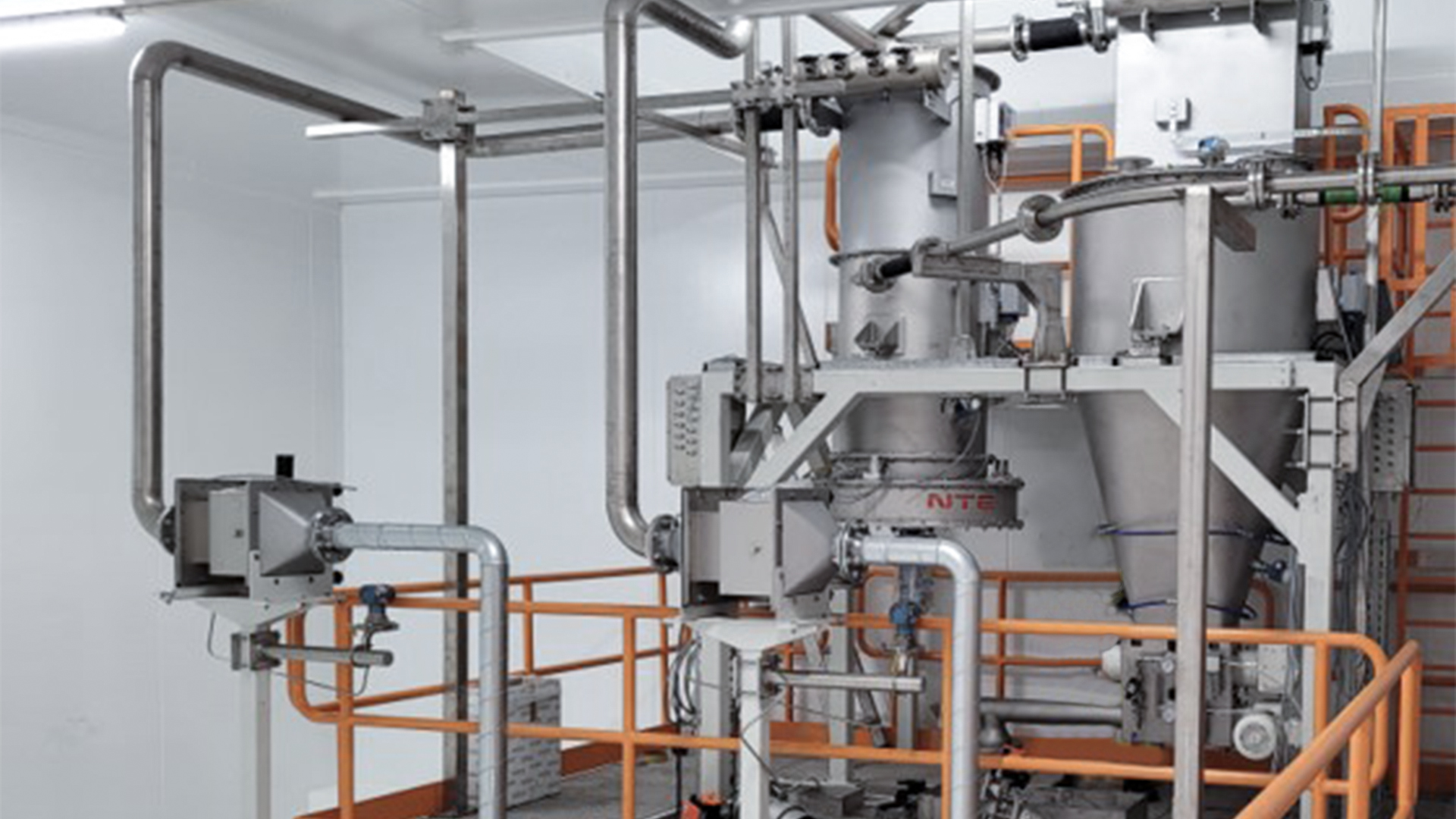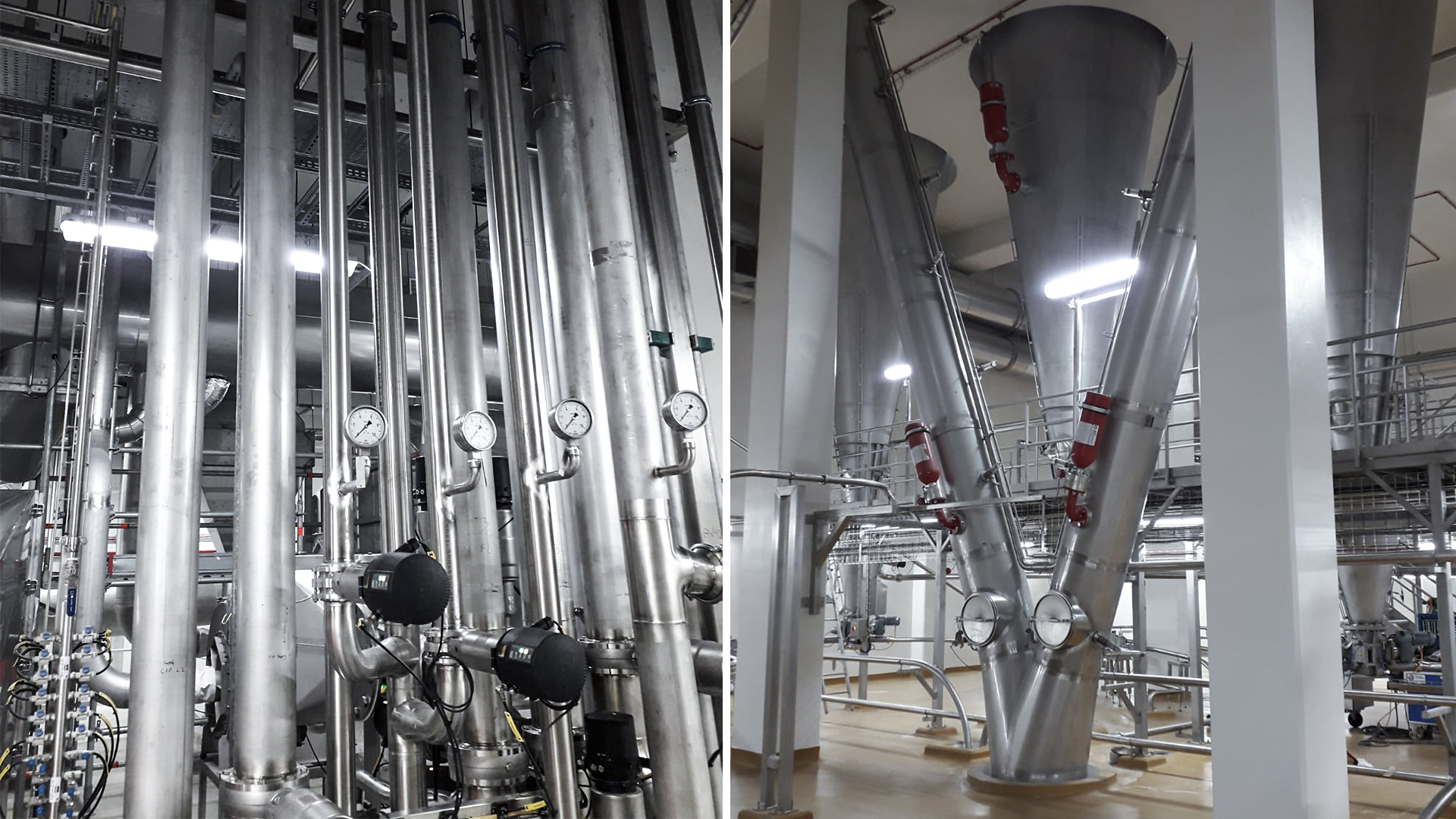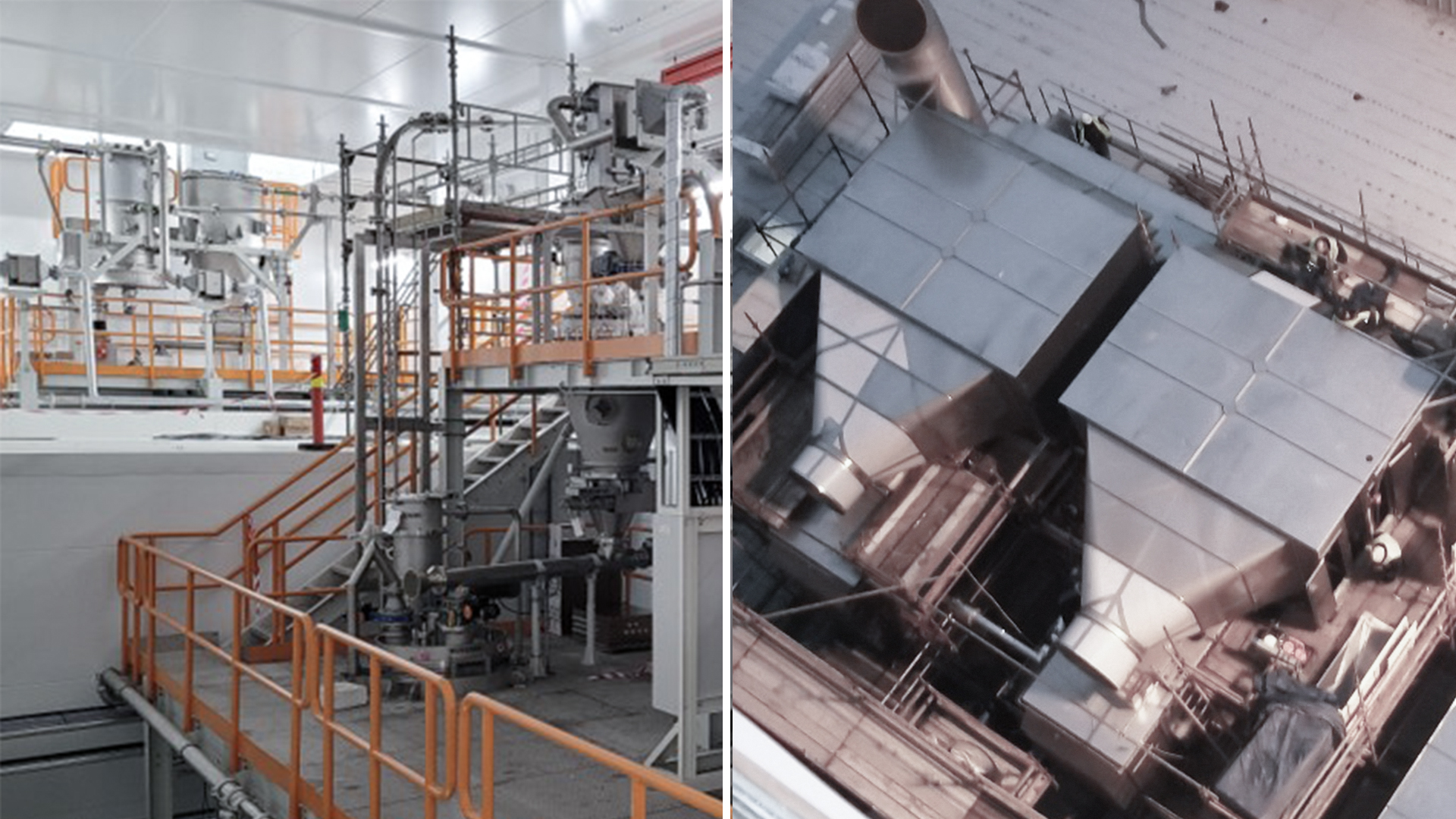 Nowadays, environmental pollution and climate change are two of the biggest challenges we have to face, and NTE Process wants to live up to these responsibilities and minimise environmental impact with specific regard to the automotive industry. For this reason, environmentally friendly solutions have been developed to optimise the production of lithium-ion batteries in a smart way,as they will be the future for sustainable mobility.
NTE Process provides turnkey plants for producing Cathode Active Materials (Cam line) and has unique solution for processing cathode and anode formulas that have overcome the main challenges involved in processing these materials. Solutions for pilot plants, customer qualification plant and Giga Factory are available for producing cells:
CATHODE BATTERY MATERIAL PRODUCTION:
Receiving and storage of raw materials Reactors loading and feeding
Slurry mixing
Wet milling and slurry mixing for PCAM preparation
Spray drying
Sintering furnace feeding (RHK)
Dry milling, sieving and bagging
ANODE BATTERY MATERIAL PRODUCTION:
Big bag unloading stations and loss in weight feeders
Dense phase pneumatic conveying systems
Mixing
Spray drying with solvents in closed loop
Dry milling and slurry mixing for PCAM preparation
GIGA FACTORY/PILOT PLANT CELL PRODUCTION:
Dosing, weighing and big bag handling
Dry mixing of cathode/anode powder with additives
Slurry preparation and mixing process
Wet milling of slurry to create gas free slurry/ink.
NTE Process stands by its customers to help them achieve efficient production by providing accurate dosing systems for loading powders directly into rotary kilns, as well as reliable slurry blending systems for the production of electrodes that allow for the accurate loading of both batch and continuous blenders.
For processing raw materials, NTE Process dosing and pneumatic blending systems are successfully used thanks to their very high dosing accuracy and the easy cleaning of the blenders, which have no mechanical parts in contact with the product. This means that there is no contamination due to contact with reels or augers, which happens in traditional blenders.
NTE Process has patented special mixers, Jetmixer® M531 and Blenders M244/M277, which homogeneously blend anything from small batches of material up to 100m3 silos in a single batch by means of pulses of compressed air, or other inert gases. Jetmixer® M 531 or Blenders M244/M277 are combined with the Liquid Injection Skid M535 for powder conditioning prior to dense phase conveying with Air Assists®. The advantage consists in the fact that blended batches can be conveyed to the final destination without product segregation.
In addition to this, with the Eco Dense-Tronic® solution, dense phase pneumatic conveying uses the Artificial Intelligence Air Assist® M533 patented by NTE Process and allows for a 40% increase in efficiency and a reduction in energy consumption of up to 70%* (*Results achieved with specific plant configurations). For each plant equipped with Eco Dense-Tronic®, the CO2 savings in one year are equivalent to almost 3,000 new trees planted.
Thanks to the strategic collaboration with Admix – a world-class partner in process solutions for slurry mixing based on Rotosolver®, which is the most effective method for the complete dispersion of solid products within a liquid and is able to optimise process efficiency and reduce production costs – we can offer very high capacity nickel, cobalt, manganese and lithium hydroxide dispersion systems.
For the particle coating phase, NTE Process' Spray Drying technology is the fastest and most reliable solution because it allows for the atomisation of liquid or slurry compounds, with different viscosities, producing an engineered powder with very precise particle sizes thanks to the use of patented and versatile atomising nozzles. A solution that guarantees the high purity of the finished product and prevents degradation caused by heat from other types of processes. The distribution and size of the powder particles are well-defined and regular. This is thanks to the use of a control technology that guarantees performance regularity and repeatability. The atomised powders obtained have high flowability and high solubility and dispersibility, so they can be easily conveyed and stored for subsequent processes.
To ensure that the final product reaches low moisture levels, NTE Process vacuum drying technology is used, which is characterised by the use of a conical blender-dryer, Ribocone. The product is gently lifted from the bottom to the top with a rotating reel (Ribbon), specially designed to optimise performance. This reel has a conical shape, so the product is blended and dried evenly and efficiently. NTE Process' Ribocone ensures that the product is not contaminated, it guarantees fast blending and drying thanks to product circulation and the complete discharge of the end product from the bottom of the cone.
The main applications of NTE Process' solutions for the production of lithium-ion batteries concern:
Raw materials (manganese, cobalt, graphite, lithium, nickel, etc.): low-pressure dense phase pneumatic or dense/dilute phase vacuum conveying systems and dosing and blending systems with water and solvents;
"Black mass" waste products: dosing systems and pneumatic conveying
Production of lithium hydroxide particles (Lithium Nickel Oxide Slurry –): use of spray dryer with special ceramic-coated nozzles capable of finely atomising normally abrasive slurries based on lithium oxide, nickel and other raw materials such as cobalt, graphite and carbon black.
Lithium hydroxide and precursors: grinding by means of a hammer mill and use of an air classifier to dynamically separate even materials with different densities. The different particle sizes are separated by the special device that separates the fine particles and takes the coarser fraction back to the grinding process. The fineness of the selected product can be adjusted easily.
Precursor drying: fluidised bed dryer (Slurry Dryer) with ceramic balls as an auxiliary heating medium.
NMC (nickel-manganese-cobalt), carbon black, LFP (lithium-iron-phosphate): vacuum drying with maintenance of low moisture levels, cooling systems, and process machine feeding with Dense Phase pneumatic conveying with Air Assists®.
NTE Process provides advanced solutions for the production of lithium-ion batteries based on completely "dust-free" powder processing systems. In addition to this, to guarantee a sustainable future, we have designed environmentally friendly emission control systems to protect today's production, but, with a view to the future, we have started collaborations to recycle batteries at the end of their service life.
The development of a closed product life cycle during the development of a new process proves that NTE Process is making an effort to guarantee a cleaner future.